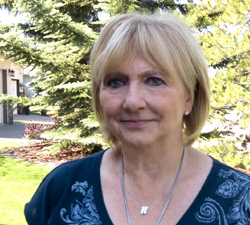 "I paint what I see. What I feel goes into it." No matter the subject, or the medium used, the expression of one's inner self is to be appreciated. That is the philosophy by which Nina creates her paintings.
Her love of art and how it was created has been a part of her life as long as she can remember. As a young child she was always drawing and creating "things". Her artistic talent and creativity was noticed by others even then.
Nina was born and grew up in Edmonton, Alberta, Canada, to immigrant parents, who wanted only the best for their children. They worked hard, encouraging education and enriching their children's lives with an appreciation for the arts through many excursions and music lessons. On weekends and holidays her family would always go to her grandparent's farm. There Nina and her two younger brothers spent their time exploring and picking wild berries and mushrooms. Nina was exposed to and learned to appreciate the beauties and subtleties of nature which influenced many of her paintings later in life.
Nina knew she wanted art to be part of her life in some way and wanted to pursue a career in design, however her parents had other ideas, not allowing her to follow that path. In their opinion a living could not be made by pursuing the arts. Not being able to do what she really wanted, Nina went to university and became an elementary school teacher. She liked children and had always related to them so this was a good choice. Nina met her future husband and after a very brief courtship, they married and she and her new husband moved to a small town in northern Alberta where he was the town pharmacist and she taught school. They had many friends and enjoyed their four year stay up north.
By this time they had two beautiful little girls. Her husband was transferred and the family moved to the thriving metropolis of Calgary. Life was busy. Teaching positions were very scarce in the city. Those dreaded music lessons and her innate artistic knowledge and ability paid off however and Nina was able to secure a teaching position because of the arts. She quickly became the school music and art teacher.
"I became an expert at organizing and presenting school concerts from choreographing to backdrops and everything in between. It was hectic and fulfilling for the children and myself but something was still missing in my life. I still wanted to be able to pick up a paintbrush and create. It wasn't until many years later that I was able to actually try painting. A good friend was a painter in oils and I asked her to give me lessons. She did…and I was hooked. I painted in my spare time, quickly replacing the dated needlepoint on my walls with scenes and abstracts that I had created. Friends and family noticed and soon my work was decorating their walls."
It was only after Nina retired that she was able to devote her time to painting. She experimented with different subject matter and different mediums. She found oil paints dried too slowly so she experimented with acrylics and pastels. Traveling also became a passion. She and her husband travelled to many places but had never been to Arizona. They decided to go for a week just to see why it was so popular. By the end of that week they had a house in Scottsdale. They absolutely loved it!! They now spend winters in Arizona and summers in Canada, having the best of both worlds.
Nina quickly became engrossed with the many art activities available in Arizona, going to art shows, museums and taking workshops from established artists who were only too willing to share their knowledge and expertise. What started out as a hobby is now a full time activity for Nina. Her subject matter has varied along the way from scenery, to still life, to people and animals but a certain element of style has prevailed throughout.
"I love abstract but it has to have an element of realism in it for me to feel complete." This combination shows through in her many works.
"I am easily inspired and find subject matter everywhere. I am always analyzing colour and shading. I have a camera with me at all times and if I see something unique or interesting I take pictures which I later use to compose a painting. Our precious grand daughter has become the child in my paintings. One of my favorite paintings is of her looking wistfully out the window in her tutu."
Currently some of Nina's paintings hang in the Corporate offices of The Royal Bank of Canada, and Raymond James Ltd, as well as Mount Royal University in Calgary and the show homes of Genesis Land Development. Private collectors throughout Alberta, British Columbia, Washington State, California and Arizona have noticed and obtained her work. Nina's popularity has mostly spread by word of mouth and exposure. She is currently working on expanding gallery exposure.
The artists who have influenced her art include Joan Fileccia, Neil Patterson (OPA),Bruce Marion, Jean Hildebrandt and many others both in Canada and the US.